Plan, Move and Protect Your Business
AK Industrial Contractors, Inc. specializes in complete relocation of plant and machinery equipment and includes certified electricians, mechanics, mold makers, and specialty handymen in the industry.
We excel at getting projects done quickly, and our clients find AK Industrial Contractors, Inc. extremely competitive and on budget.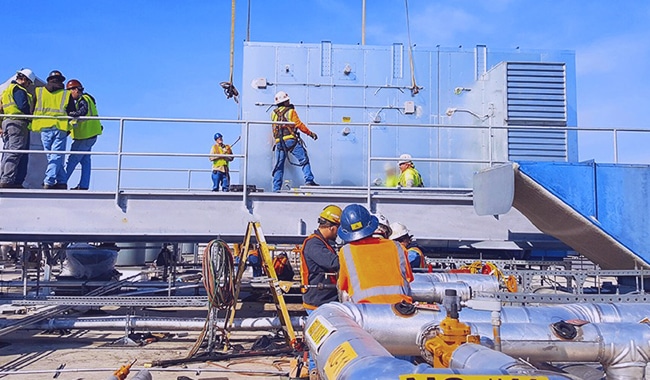 Comprehensive pre-move planning and scheduling
Accurate cost-estimating and cost
Management
Start-to-finish documentation
All utility disconnections and reconnections including gas, water, pipe fittings, welding
and instrumentation
Complete plant maintenance support during your shutdown
Expert rigging and crating
Total freight coordination
Precision millwrighting, leveling and critical tolerance alignments at the receiving
location
Comprehensive testing and equipment readiness
Cleaning, painting, and warehousing if requested
All necessary licenses and permits
Comprehensive insurance and bonding coverages
Non-union cost efficiencies
Planning and Scheduling Complete Before Move
Precise Management of Costs and Estimates
Efficient Relocation and Reset of Entire Facility
We are also experts in keeping your downtime to a minimum. We will work 24/7 if necessary to meet your deadline, and we'll do so while maintaining our safety record for staff and equipment. Our planning phase is designed to inform us of everything we need to know to make your move efficient, safe, and successful. It is a sense of security for all of us.
We Speak the Languages of the World
The world is getting smaller, but that doesn't make shipping international industrial machinery and equipment equipment any less challenging! In addition to our global experience, we have established an invaluable network of personal contacts around the world and streamlined organizational procedures. By ensuring that all necessary permits are obtained and documents are in order, this helps us eliminate costly delays and red tape. Our attention to every administrative detail of your move ensures that you will get the fastest and easiest relocation possible.
AK Industrial Contractors, Inc. has completed turnkey projects, rigging and shipping equipment throughout the United States for over 41 years. Our staff have worked with in the United States, Canada, Mexico, China, Europe and South America. We are one of North America's most experienced contractors when it comes to executing complex installations both at home and abroad!
Before the Move
– We secure all necessary licenses and permits.
– We ensure that your equipment is moved using the right tools for each piece.
– Accurate estimate and cost management: Before our teams come to you to complete the service, a complete cost analysis and plan will be provided to you for your approval.
– Comprehensive pre-move planning: At AK Industrial Contractors, Inc. we pride ourselves on our complete turnkey planning service that offers our clients a detailed plan and schedule of how we will provide the necessary services.
Packaging
As part of the complete turnkey service, we can pack, load, unload and unpack your equipment.
– Assembly: With our maneuvering services, we ensure that your equipment is moved using the right tools for each piece.
– We guarantee safe packing and unpacking of your equipment
– When loading and unloading your equipment, we handle all pieces with the greatest care and prepare them for the safest movement.
Movement
– Door-to-door transport including platforms, lowboys, step-deck, boxes and extensions.(legal, oversized and overweight).
– All disconnections and reconnections of public services, including electricity, gas, water pipe fittings, welding and instrumentation.
In the New Location
– Assembly
– Precision alignment, level and critical tolerance.
– At your new location, we fully assemble your equipment.
– Extensive testing for equipment readiness.
– Assistance and support at startup.
– AK Industrial Contractors will be there assisting, checking, and servicing any equipment so startup at your new location goes smoothly.
Other Services
-Full plant maintenance support during shutdown: cleaning, painting, and equipment storage. If required, AK Industrial Contractors cleans, paints, and safely stores your equipment.
– Freight Transportation: We organize transportation and storage of your cargo. We take charge, and we are responsible for securing it.
Move Your Business Forward
Whether it's a small project or a large scale initiative, we have the skills and expertise to get the job done right. So if you're looking for a company that can help you get your next project off the ground, look no further than AKIC, Inc.